| | |
| --- | --- |
| Elections – An Immigrant's Views | |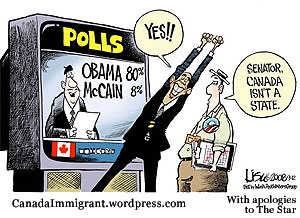 Oh, and by the way, Canada is also going to elections. What this essentially means to me — a new immigrant in Toronto, Ontario — is probably what an election in Norway means to a Kangaroo farmer in Australia… not that Kangaroos are farmed in Australia, but who knows these things, eh? Besides, I'm not even a citizen to be able to cast a vote. Ha!

But, having strong opinions, I have, though, been witnessing some troubling signs over the couple of years that I've been in Canada, or Ontario, or Greater Toronto Area, or Toronto. What happens elsewhere in this little country is none of my business.
MY 2.28 cents (incl. GST/PST) ON CANADIAN POLITICAL DIVIDE
Judging by the bookshelves in various supermarkets, where Ann Coulter's titles outnumber anything worth reading these days, and judging by how most of my coworkers religiously read The Toronto Sun and National Post, it is becoming increasingly clear to me that most "real" Canadians are moving well towards the Right. The Left, they say, is being left behind.
MY 2.28 ON CANADIAN SOCIAL INTEGRATION
With 57% of Toronto's population born outside Canada, and which keeps its eyes and ears open to their respective "back home" politics more than Canadian (myself included), what possible issue is there for me to keep a tab on Canadian elections apart from, may be sending all new non-white immigrants to racially isolated and reputedly 'insensitive to coloured people' provinces like Alberta.
MY 2.28 ON ONTARIO ELECTORAL ISSUES
In fact, what possible issue is there for Canadians to talk about, except probably discussing another 25 year plan to extend an inch of TTC Subway line, or initiating a 10 year feasibility study to study the impact of reducing PST by 0.0000078 percent or probably increasing the minimum wage by 25 cents by the year 2025. How about something like the Boomsday plan as described by Christropher Buckley in the hilarious book with the same title, to solve Canada's health care mess and doctors' shortage in one clean sweep – so to speak. Now that would be an issue to discuss.
MY 2.28 ON CANADIAN POLITICAL LEADERSHIP
I can bet my workday sandwich that more people can name the running contenders for the President of the United States than naming 3 leaders running for Canadian premiership.
MY 2.28 ON CANADIAN ECONOMIC ISSUES
Some say that's even more a reason why Canada should amalgamate itself with the United States, just like the City of Toronto amalgamated neighbouring localities. Nothing personal, strictly business.
MY 2.28 ON CANADIAN FORCES IN AFGHANISTAN
Yes, Canadian forces are in Afghanistan. Yes, Canadian forces are getting killed. Yes Canadian engagement in Afghanistan is a controversial issue in Canada. Yes, Canadian forces are there because of NATO obligations. Yes, Canadian forces are fighting a war a zillion miles away which is not even their war to begin with — in fact, it was never a war to begin with.
And thus spake Cinnik on Canadian Election 2008.
| | |
| --- | --- |
| | First Published: September 25th, 2008 |