UPDATE 2: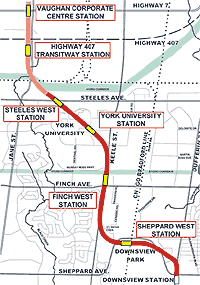 It's official now. The new TTC subway extension has been given a go-ahead. As expected, high-brow car-driving suburbanites are already calling it a "huge expenditure" – as if everything else the government spends on is not a huge expense. Read my related "green transport joke" rant here.
Called the Spadina Subway Extension, the 8.6 kilometre line will have six new subway stations:
Sheppard West Station
Finch West Station
York University Station
Steeles West Station
Highway 407 Transitway Station (It will take more time to announce the name of this station than to arrive there – probably not, given the snail paced trains!)
Vaughan Corporate Centre Station (very 'corporate' sounding for rich Vaughan – nudge nudge, wink wink!)
UPDATE 1:
A personal wishlist for the new TTC subway
Above is what the TTC plans to do. But as a rider myself, here are a few things I'd like to see. Feel free to add your own – who knows, someone might actually take notice!
1. Ability to pay for tickets and passes using Debit cards and Credit cards at all stations.
I mean, how sad it is that you can only buy monthly Metropasses with cards, and those too only at Finch, Kennedy, Kipling and Downsview (Debit cards) and Union, Dundas, Bloor-Yonge and Davisville (Credit Cards). What possibly could be the excuse for this apathy towards technology in this day and age?
2. Subway line between Sheppard-Yonge and Downsview.
What could be the reason not to link these two when they were building the "new" Sheppard Line ? Why does one have to go south all the way to Bloor then go west to St. George, then go north again to Downsview? And please, the connecting land routes defeat the purpose of "rapid transit" between these two stations.
3. Increased Frequency of Land Routes Connecting atleast two stations.
Enough said. Joke's on the rider when he/she arrives via train only to be stuck for 20 minutes for a land connection!
4. And Err, The Speed of "the Rocket."
I know this sounds ridiculous, but has anyone actually noticed that the "Rocket" travels rather slow… why?
ORIGINAL:
New Toronto subway trains to-be look cool!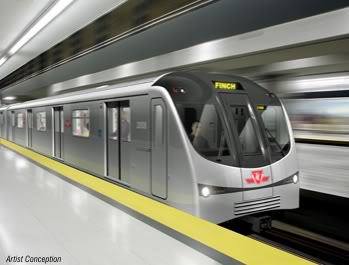 Also checkout the new proposed colour schemes and more features.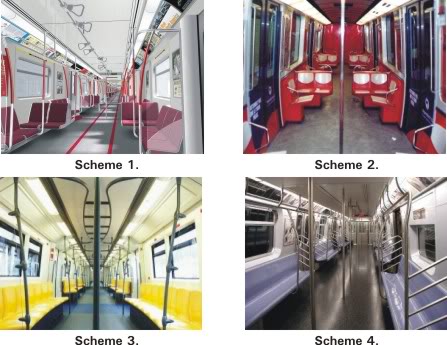 There's also a photosetof a real mock-up of the new TTC subway train on Flickr.
You can get more info by visiting the link in the beginning of this post, but here are some key features for the click-lazy:
Exterior Blue Light
Colour Contrasted Anti-microbial Stanchions
Multi-purpose / Easier Access / Wheel-Chair Area
Electronic Information Display System
Active Route Map
Full Length Open Train (Connecting passage allows car to car access)
Passenger Alarm Intercom System
Emergency Evacuation Ramp
Safety Information Monitor
Way-finding Coloured Floor Guide
Closed Circuit Television (CCTV)
Interior Colour Scheme
Related Post: The Commission (aka Toronto Transit or TTC)
| | |
| --- | --- |
| | First Published: June 22nd, 2006 |