| | |
| --- | --- |
| How to Market Your Products to Immigrants | |
Whether small business or big brand marketing – when selling to immigrants, what's often more important than how to market should be how not to market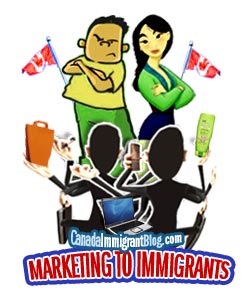 I've always marvelled at how some of the most simple, no-nonsense approaches often completely escape Canadian marketers when it comes to selling products and services to immigrants.
A newcomer's initial purchases in Canada are as emotionally significant as they are practical or objective. The purchases have nostalgic value. They will remember either with fondness or with disgust what they 'bought first in Canada.' The first purchases or services have the potential of becoming a lifelong attachment or avoidance.
And the closely-knit immigrant communities have a powerful word-of-mouth network that can make or break a product for that group.
If I were a marketer or a small business starter looking to break into the lucrative immigrant market, instead of spending time, resources, research and studies on How To reach immigrants, I'd simply begin by listing out a few How Not To things first.
Things to Unlearn when Marketing to Immigrants
Don't 'Ethnicize' for the Sake of it
The world is a global brand village. Just because someone has arrived from an unpronounceable third-world city doesn't mean she will only understand your message if images of trees and cattle or language symbols from her town feature prominently in your communication.
Unless you're selling exotic Asia-Pacific bamboo-shoots or wild East European mushrooms or rare Latin American weed for err… medicinal purposes, keep things Canadian with a genuine proposition of why your immigrant customer must buy it in Canada.
Discourage supermarkets to compartmentalize your product into "Ethnic" grocery in no-go areas and make them display it side-by-side 'regular' Canadian items.
Avoid North-American 'Opportunity Price' Gimmickry
Economically savvy not by choice but by customs, newcomers know what a good price is. It's that simple. A generic pack of 100 rubber bands probably made by the same factory in China costs $1 at Dollar Store but costs $3.99 at another store just because another store can get away with it? And by the way, the same pack can be bought for 25 cents on eBay direct from Hong Kong!
Don't 'Brandize' for the Sake of it
A commodity is a commodity and many immigrants are from parts of the world where buying simple goods means buying 'goods', not brands. Just because there are 8 different fancy packs of Moroccan dates or Greek olives with 'designy' logos and curly fonts doesn't mean dates aren't dates. Traditionally penny-wise, Immigrants have a knack for recognizing quality by watching it through a simple clear bag, rather than expensive 'branding'.
Avoid Size/Variant 'Confusion Marketing' Gimmickry
For immigrants, the best and most cherished brands are simple brands which they can understand quickly while having to grasp so many other new things in their new country. The same-brand toothpaste or cellphone 'plans' which must be sold in six different sizes or 'variants' with 'competitive prices' or 'comparable features' might work for someone who's got nothing better to do, but you will definitely not gain a loyal customer for long term.
Avoid Excessive Packaging
Too much plastic/paper/brochures/'literature' to disguise a mediocre product is a clear signal of gimmickry for most people who land into this land of the plenty from places where the product has to speak for itself without any luxury of 'fluff.'
Avoid Fine-Print Gimmickry
Don't make your potential immigrant client-for-life a cynic (like yours truly)! If you have to say something that you cannot say in bold print, don't say it. "Conditions apply" or "Offer valid for prices ending in .97 only" will only increase their disdain and make them frequent 'back home' type shops more often than yours!
And Remember: The Immigrant is Not a Moron, She's Your Neighbour
To spin the famous David Ogilvy adage, the best and often the most effective marketing strategy — next to dating/marrying an immigrant of course — is to empathize. Easier said than done I realize.
Feel free to share your own tips in comments below on how to sell to immigrants!
| | |
| --- | --- |
| | First Published: January 11th, 2012 |