| | |
| --- | --- |
| Run Folks Run, the Immigrants are Coming! | |
The right-wing crusade to witch-hunt Canadian citizenship gets even more medieval with a vengeful new commander imposing callous fear-mongering laws.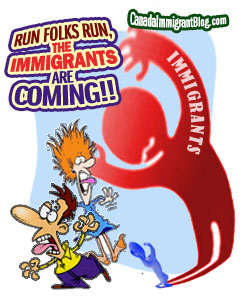 I can only imagine the relief former Ultra-Conservative Minister of Immigration HRH Far-Right-Honourable Sir Jason Kenney1 must have felt as he escaped the daily ethnic stench of dealing with those "dirty funny-looking immigrants" and "barbarian hordes" invading from those "unpronounceable third-world stink-holes."
Our new Conservative Lord and Master HRH Right-Honourable Far-Right-wing Minister Sir Chris Alexander1 is the fresh knight in shining Harper armoury to become the Orwellian Minister of Citizenship and Immigration in Canada's continuing war to cull, null & dull the value of what it means to be a citizen for all of those foreign-looking buggers.
And His Lordship Sir Chris has made pretty clear very soon that he intends to out-do his predecessor in every area! Now that's real commitment to excellence!
New Minister's Growing Checklist
I imagine the TO-DO list on his desk left by the former Lord had something along the lines of:
The preferred term around the office is "immigration", NOT "infestation", and the human imports are called Immigrants (or Conservative Party's affectionate term for these: Stinky Immigs), NOT "pests" or Cheap Foreign Imported Foul Human (please ask my secretary to search-replace all my previous memos ASAP!)
Try to herd in Inexpensive (think cheaper, expendable, loony-a-dozen, etc) Stinky Immigs for our big business friends in oil and gas
We must be more realistic and progressive, so please also replace all previous occurrences of FOTB (Fresh Off The Boat) to FOTP (Fresh Off The Plane)
Expedite and rapidly process pliable and docile Stinky Immigs (think brawn, not brain) from various un-livable rats' nests of the globe, give them residency, but do NOT let them get too comfortable here!
As a priority, discourage Stinky Immigs who make shing-dang-dim-sum or tikka-katu-roti-singa-masala or akhalah-al-wakhlah-bin-falafal type funny noises they call foreign "languages"! Figure out a way to keep our beautiful Lingua Franca and Queen's Tongue alive!
Don't worry about costs, I will make sure as Employment Minister that Stinky Immigs are paid less
If by some miracle, in any year of our lord, some of those Stinky Immigs become somehow eligible for citizenship, make sure you have some statutory legal framework ready to deny them that
When in doubt, remember the following equation, my son:

Blue-eyed home-grown nice folk = Canadian
Foreign-looking, funny-talking buggers = Fraud Scammers (aka Stinky Immigs)

Stinky Immigs are to be considered bonded human imports for economic purposes only: In the event of some strange miracle of our lord and saviour, even if a Stinky Immig falls through the cracks and aspires to be Equal Human Citizen (lord forbid!), make sure legislation exists to put the fear of our lord in his/her soul so that he/she might lose citizenship if he/she is to take a trip outside Canada
Theatre of the absurd continues
Before you roll your eyes and go funny-haha at my 'attempted humour' of satire bullet-list, do your own research on Google or read some of my previous posts to discover how true most of what's joked above actually can be!
The latest anti-immigrant, second-class-citizenship laws and this style of extreme right-wing governance by the Harper Conservatives is hardly something to laugh about, sadly.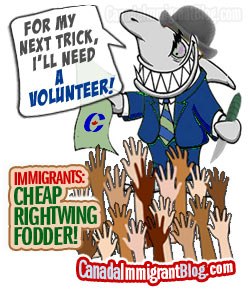 This holier-than-thou, right-wing vote pandering group of self-righteous politicians is making sure that the day is not far when Canada's kind-hearted persona and a proud standing in the world comes crashing down like of those countries ruled by racist, xenophobic and warmongering fascist despots.
These Conservative authoritarian supremacists — full of hate and self-importance — are hell-bent on bringing down Canada's world-class image earned through years and years of progressive, democratic, compassionate and liberal values of a proud and a very secure nation.
And one's heart and mind aches witnessing such plundering and massacring of one's beloved adopted home's cherished values of humanity and kindness. It hurts even more when all that is being cheered on by one's own short-sighted older-but-hardened fellow Canadians.
To my fellow immigrants, I can only say this: be informed, and don't be fooled by the nice-sounding rhetoric of Harper Conservatives. Show them the door next election!
Their Royal Highnesses, Ultra-right-wing Minister, Right Honourable Sir Jason Kenney and worthy successor in arms and blood, Right-Honourable Sir Chris Alexander: Distinguished Members of Parliament & Crown Ministers. Sir Jason is now responsible for putting Employment and Multiculturalism in its right place away from filth and undesirables. Sir Chris has been anointed to cleanup the ethnic muck and waste of Citizenship and Immigration and to bring cleanliness and order back to Real Canadians. For services rendered to the Queen and the Country, I'm hopeful that soon they will also be designated Knights of the British Empire (KBE), Commanders of the Most Excellent Order of the British Empire (CBE), Officers of the Most Excellent Order of the British Empire (OBE), Members of the Most Excellent Order of the British Empire (MBE) and Knights Grand Cross of the Most Excellent Order of the British Empire. Godspeed Melords!
| | |
| --- | --- |
| | First Published: February 12th, 2014 |