| | |
| --- | --- |
| Successful, Famous Immigrants | |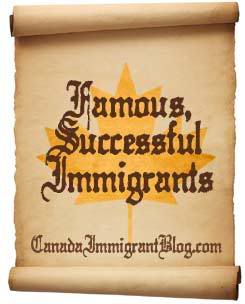 In my research for successful famous 'genuine' immigrants in Canada, I have disappointingly discovered only a few names. But perhaps I should not be too surprised. After all, even to first-rate 'regular' Canadians, if you gotta make it big, you gotta move to the U.S.
My definition of 'genuine' are those who landed just like an independent skilled worker class immigrant and then achieved something worthy enough to be famous or notable with primarily their existing education and qualifications.

Note that unlike other such 'lists', I don't list those born to Canadian immigrants, like Pakistani descent Yasmeen Ghauri, or Malaysian born Steph Song, who do not qualify in my book (though I wish they did, for me to post pictures of them to bring some life to this bland blog.) And not even those who were born elsewhere but raised and educated in Canada.
This is a list of people who immigrated with prior education and experience in their country and then made it to a place of recognition in Canada.
An Incomplete List of Genuine Successful Famous Immigrants to Canada
(In alphabetical order, information collected from various sources, such as Wikipedia.)
Wajid Khan

Wajid Ali Khan (born April 24, 1946 in Lahore, Pakistan) is a Canadian businessman and politician. He is a current member of the Canadian House of Commons, representing the riding of Mississauga ?Streetsville as a Conservative Member of Parliament. Khan served as an officer and pilot in the Pakistan Air Force from 1966 to 1973. He moved to Toronto, Canada, in 1974. Prior to his election, he was the President and CEO of the largest automobile showroom in Canada, that of Dufferin Mazda.
Gurbax Singh Malhi

Gurbax Singh Malhi, PC, MP (born October 12, 1949 to a Sikh family in Chugha Kalan, Punjab, India) is currently a member of the Canadian House of Commons, representing the riding of Bramalea ?Gore ?Malton for the Liberal Party. Malhi was educated at Punjab University, and has a Bachelor of Arts degree in Political Science, English and History. He moved to Canada in 1975, and was initially a factory worker before becoming a real estate agent.
Rohinton Mistry

Rohinton Mistry (born 3 July 1952) is considered to be one of the foremost authors of Indian heritage writing in English. Residing in Brampton, Ontario, Canada, Mistry is of Indian origin, and belongs to the Parsi Zoroastrian religious minority. Born in Mumbai, India, Mistry immigrated to Canada in 1975, after obtaining an undergraduate degree in mathematics and economics from Bombay University, in 1973. He worked in a bank for a while, before returning to studies, leading up to a degree in English and philosophy.
Hwang In Shik

Hwang In Shik (born 1940 in Sunch' n, Pyongyang, North Korea) is one of the foremost Korean hapkido teachers today. A great popularizer of the art in Asia through his work in the Hong Kong based films of Bruce Lee, Jackie Chan and Angela Mao, he is known nevertheless as one the top teachers of the art and was eventually awarded a 10th degree black belt, the highest rank possible in the art, by the World Hapkido Association. In 1976 Hwang immigrated to Canada and started a family. He opened a dojang in one location and then moved shortly thereafter to the Greek area of Toronto known as the Danforth, where he still continues to teach and train on a daily basis.
Harinder Takhar

Takhar was born to a Sikh family in the Indian state of Punjab, with a background in farming and civil service work. He moved to Canada in 1974, and arrived in Mississauga, Ontario in 1977. Harinder Takhar was elected to the Ontario Legislature as a Liberal in the 2003 provincial election, and was appointed Minister of Transportation on October 23, 2003, by Premier Dalton McGuinty. He is the first Indian-Canadian to hold a cabinet post in Ontario.
M. G. Vassanji

Moyez Gulamhussein Vassanji was born 30 May 1950 in Nairobi, Kenya, and raised in Tanzania. He moved to Toronto to begin his writing career. In 1981, Vassanji, his wife Nurjehan Aziz, and a few others founded The Toronto South Asian Review (TSAR) which later spawned the publishing company TSAR Publications. He lives in Toronto with his wife and two sons.
Please help compile this list of Genuine Canada Immigrants, if you know of someone with the criteria described in the beginning of this post.

| | |
| --- | --- |
| | First Published: October 5th, 2008 |