| | |
| --- | --- |
| An Idiot's Guide to Staying Positive as an Immigrant | |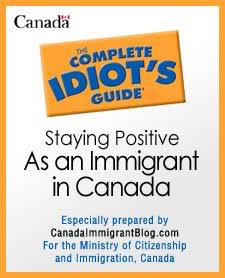 As a free service to the Ministry of Citizenship and Immigration, I have written an insider's guide to the inner workings of an idle immigrant mind in Ontario. It will help the Ministry spend more money on government-funded programs for immigrants and will also add more glossy literature to put at the airports and Service Canada Centres nationwide, thus creating more secure jobs for bilingual Canadians from Nova Scotia and New Brunswick.
This is an ongoing guide. Check back often to find more tidbits and help and support information as my adventure continues. I'm still working on the French version.
The Positive Immigrant – A Self-Help Guide
Try to make sense of it all
Ask yourself: How do you stay positive in a state of insecurity, hopelessness and in the face of fear of failure ? Yes! You take comfort in your friends and family and network of professional friends, and get motivated with their support and encouragement.
Try wondering about silly little stuff
What if you have none of the above within a few thousand miles' radius ? The only people you knew by their names were your co-workers who vanished into thin air the moment your employer locked its doors one fine morning. As if the place never existed. This is what I meant by 'kaput' in the post describing the dark-comedy incident. And the only relative you had around moved to the other side of the continent. Oh yes, the landlady knows who you are!
Try asking stupid rhetorical questions
Does this vicious cycle of finding employment again ever end ? Customizing your resume again and again, writing cover letter after cover letter, visiting employment websites hour after hour.
Try focusing on the results
And what job you get as a result of the above is only when you undersell yourself to the point of utmost hilarity. Then when you're on the underdog job, you keep applying every night for something in your own relevant field. Until, of course, your existing underdog job goes bust again.
Try rationalizing
Isn't that what I've been doing ever since I landed in Canada two and a half years ago ? Surely, I'm a pro at this now!
Addendum: Kind readers tewf and Melanie made me realize how popular this Idiot's Guide is becoming (both from the Middle East?) Now, I will surely be adding more points soon!

| | |
| --- | --- |
| | First Published: December 1st, 2008 |