| | |
| --- | --- |
| Newcomer Success Made Easy | |
The easiest way for immigrants to succeed in Canada is to start teaching other newcomers how to succeed in Canada, explains our Immigration Expert Dr Grey V Trayn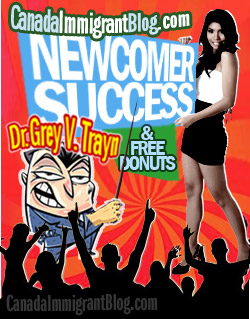 This is part two of Dr Trayn's bestselling How to Succeed in Canada series. For part one, see link below.
Canada Immigrant Blog's very own Regulatored Immigration Consultant Extraordinaire, Dr Grey V. Trayn is no stranger to success. When he arrived in Canada 30 years ago, Canada was a different country: It was actually situated in Scandinavia.
So because of a progressive and human-friendly people who ruled Canada, it was much much easier for anyone to succeed here.
But, alas, after the far-right-wing superior decent-bright-blue-eyed-folks from Alberta called The Conservatives yeehawed into power, Canada was gradually moved to North America, near Texas. Dick Cheney became the first Minister of the Crown.
I asked Dr Trayn how it feels to be so successful in Canada, after all these years of talking about it.
"Hahaha", Dr Trayn laughed, "You don't think I'm going to tell you the secret, do you?"
But after my continued insistence, and getting him quite inebriated over three bottles of cheap Niagara wine from LCBO, he agreed to share his years of experience.
"The idea is to put the words 'success', 'succeed', and 'successful' into every single sentence you speak throughout the day."
That sounds easy enough, I thought. However, being successful, especially as a new immigrant without many options in Canada surely means one must 'do' something which can be called a success, right?
"Well, the surest way to do that is to start talking about it. When I began, there wasn't even an Internet. So I used to write all about success on paper and — get a hold of this — print it out using an offset letter press and distribute it around the area where I lived. Sometimes I used to hire other unsuccessful immigrants as part-time carriers to go door to door and slip in my success stories."
I poured some more wine for Dr Trayn because I feared he was getting annoyed. I asked him when did he know he would move on from simply printing out his successful papers into full-time consultancy as an expert guide and coach. It must've been hard to have achieved success so early.
"Yeah, but after a while it got tiring and I had become successful anyway, so I thought, I should take a break instead. That's when I become a Consultant. So, I relaunched myself as a successful speaker talking about success to people who wanted to succeed."
By that time the bottles had run dry as well and I called a cab for Dr Trayn to go home.
The taxi arrived and a successful immigrant cabbie helped me push Dr Grey V Trayn into the seat.
Dr Grey V Trayn is the bestselling author of O Cana Duh: How to Succeed Through Simple Everyday Deceit, Clever Exploits and Unlimited Federal Grants. He is the founder and chairman of Settlement Canada Arrival Management Services (SCAMS), one of Canada's largest government funded Certified Settlement Service Provider for newcomers and Immigrants.
More from Dr Grey V Trayn's Immigration How To Series
| | |
| --- | --- |
| | First Published: December 3rd, 2014 |